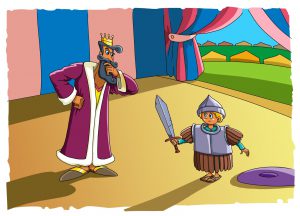 God is raising up His people to lead others and we must guard our hearts because out of it flows the issues of life (Proverbs 4:23). If we aren't careful, then we can become jealous of those we are called to lead. We will then find ourselves coming against those that God sent in our lives to bless us and to make the load of ministry lighter. Saul was anointed for two years and he had the potential to reign righteously but ended up as a failure. It's sad to see his moral deterioration. He started off right but fell away like some are doing today. His disobedience and pride caused the spirit of the Lord to reject him as king (1 Samuel 15:26). God had to find someone to take his place, David. At first, Saul loved David and gave him many opportunities, but he ended up hating him (1 Samuel 18). How can that be? Let's look at his characteristics, so we don't make the same mistakes.
Impatience
Out of order
Disobedient
Speaking negative words
Prideful
Jealous
People pleaser
Greed
Hypocrite
The first characteristic of Saul is impatience. In 1 Samuel 13, he was supposed to meet Samuel at Gilgal. However, after seven days, he started to worry because the men around him were afraid and he made a burnt offering to the Lord without praying. He took matters into his own hands. We should always pray and receive an answer before we do anything.
1 Samuel 13:12 says, "Therefore said I, The Philistines will come down now upon me to Gilgal, and I have not made supplication unto the Lord: I forced myself therefore, and offered a burnt offering."
The second characteristic of Saul is that he was out of order. Was Saul authorized to perform priestly functions? The Levites were ordained by the Lord to offer up burnt offerings, not the king. Here we see Saul operating in a role that God never intended. Samuel declared that Saul's kingdom was over and told him that God would look for his replacement.
1 Samuel 13:13-14  says, "And Samuel said to Saul, Thou hast done foolishly: thou hast not kept the commandment of the Lord thy God, which he commanded thee: for now would the Lord have established thy kingdom upon Israel for ever. But now thy kingdom shall not continue: the Lord hath sought him a man after his own heart, and the Lord hath commanded him to be captain over his people, because thou hast not kept that which the Lord commanded thee.
The third characteristic of Saul was that he was disobedient. In 1 Samuel 15, The Lord gave specific instructions to kill all the However, Saul saved the best cattle and sheep. He also spared King Agag.
1 Samuel 15:3 says, "Now go and smite Amalek, and utterly destroy all that they have, and spare them not; but slay both man and woman, infant and suckling, ox and sheep, camel and ass."
1 Samuel 15:9 says, "But Saul and the people spared Agag, and the best of the sheep, and of the oxen, and of the fatlings, and the lambs, and all that was good, and would not utterly destroy them: but every thing that was vile and refuse, that they destroyed utterly."
The fourth characteristic of Saul was speaking negative words. Life and death lie in the power of the tongue (Proverbs 18:21). Saul made an oath at the wrong time. His men were hungry while they were at war and were miserable. They needed food to strengthen them. He said that anyone who eats would be cursed so the soldiers were afraid to eat. Jonathan, his son, didn't hear the oath and ate some honey. When Saul found out what his son had done, he cursed himself.
1 Samuel 14:24 says, "And the men of Israel were distressed that day: for Saul had adjured the people, saying, Cursed be the man that eateth any food until evening, that I may be avenged on mine enemies. So none of the people tasted any food."
1 Samuel 14:27 says, "But Jonathan heard not when his father charged the people with the oath: wherefore he put forth the end of the rod that was in his hand, and dipped it in an honeycomb, and put his hand to his mouth; and his eyes were enlightened."
1 Samuel 14:44 (EXB) says, "Saul said, "Jonathan, if you don't die, may God ·punish me terribly [do the same to me, and even more]."
The fifth characteristic of Saul was pride. He did things his way instead of God's way. Pride comes before destruction. A haughty look before a fall (Proverbs 16:18). Saul had an unteachable spirit. He forced himself to act as a priest in 1 Samuel 13. He disregarded the law and the protocols set by God. He didn't take heed to God's commands.
1 Samuel 15:23 (EXB) says, "Disobedience [Rebellion] is as bad as the sin of sorcery  [witchcraft; divination].·Pride [Stubbornness; Arrogance; Presumption; Insubordination] is as bad as ·the sin of worshiping idols [idolatry]. You have rejected the Lord's ·command [word].    Now he rejects you as king."
The sixth characteristic of Saul was jealousy. When he heard the women's songs, jealousy entered his heart and he tried to kill David at least twelve different times.
1 Samuel 18:7-9 says, "And the women answered one another as they played, and said, Saul hath slain his thousands, and David his ten thousands. 8 And Saul was very wroth, and the saying displeased him; and he said, They have ascribed unto David ten thousands, and to me they have ascribed but thousands: and what can he have more but the kingdom? 9 And Saul eyed David from that day and forward."
The seventh characteristic of Saul was that he was a people pleaser and not a God pleaser. He was more afraid of men than God. The fear of a man is a snare, but those who trust in the Lord are secure (Proverbs 29:25).
1 Samuel 15:24 says, " And Saul said unto Samuel, I have sinned: for I have transgressed the commandment of the Lord, and thy words: because I feared the people, and obeyed their voice."
The eighth characteristic of Saul is greed. He didn't trust the Lord fully to provide all His needs. He failed to realize that the source of the merchandise matters. The was a reason that God commanded for the Amalekites and everything associated with them to be killed. Saul allowed greed to blind him.
1 Samuel 15:3 says, "Now go and smite Amalek, and utterly destroy all that they have, and spare them not; but slay both man and woman, infant and suckling, ox and sheep, camel and ass."
The ninth characteristic of Saul is a hypocrite. He wanted to pretend like the Lord was still with him when he got rejected. He cared too much about what others thought. He asked Samuel to honor him in front of the elders and the Israelites.
1 Samuel 15:30 (EXB) says, "Saul answered, "I have sinned. But please ·honor [respect] me in front of the elders of my people and in front of the Israelites. Come back with me so that I can worship the Lord your God."
Leaders, have to celebrate, support, and push their spiritual children forth just as they would their biological children. Guard your heart so your ministry isn't cut short.
Prayer: Lord, bless me to keep a pure heart. Allow me to have the right motives. Lord, give me the wisdom and patience to lead your people in Your will. In Jesus' name. Amen.
Kimberly Moses Ministries ©2020
---
Listen to Kimberly's broadcasts: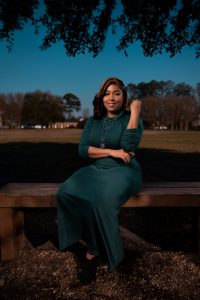 Kimberly Moses started off her ministry as Kimberly Hargraves. She is highly sought after as a prophetic voice, intercessor and prolific author. There is no doubt that she has a global mandate on her life to serve the nations of the world by spreading the Gospel of Jesus Christ. She has a quickly expanding worldwide healing and deliverance ministry. Kimberly Moses wears many hats to fulfill the call God has placed on her life as an entrepreneur over several businesses including her own personal brand Rejoice Essentials which promotes the Gospel of Jesus Christ. She also serves as a life coach and mentor to many women. She is also the loving mother of two wonderful children. She is married to Tron. Kimberly has dedicated her life to the work of ministry and to serve others under the call God has placed over her life. Kimberly currently resides in South Carolina.