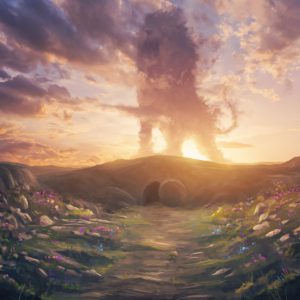 Many times when God gave his people an assignment, they were afraid. He would tell them to have courage. He would tell them not to be afraid. He even spoke to Paul to tell Timothy that God had not given him a spirit of fear but a spirit of power, love, and a sound mind. I believe that fear is a spirit, so is power, love, and a sound mind. We have to treat them as such. God has given us weapons for these spirits. We live in an earthen body of clay, but we don't fight this with our fists. We fight our battles on our knees, through a pace, with our hands lifted, to name a few.
When Joshua replaced Moses, God told him three times to be courageous. God had already given them the Promised Land. They just had to go and take up residence there. When he told us to go and recover all, that's what we do. He has given us the grace for the victorious win. This Scripture affirms this: "And the seventh angel sounded; and there were great voices in heaven, saying, The kingdoms of this world have become the kingdoms of our Lord, and of his Christ; and he shall reign for ever and ever," Revelation 11:15 KJV.
Even in the book of Deuteronomy, it is recorded concerning fear. "Be strong and of a good courage, fear not, nor be afraid of them: for the Lord thy God, he it is that doth go with thee; he will not fail thee, nor forsake thee. And Moses called unto Joshua, and said unto him in the sight of all Israel, Be strong and of a good courage: for thou must go with this people unto the land which the Lord hath sworn unto their fathers to give them; and thou shalt cause them to inherit it. And the Lord, he it is that doth go before thee; he will be with thee, he will not fail thee, neither forsake thee: fear not, neither be dismayed."-Deuteronomy 31:6-8
Even though these are Old Testament Scriptures, they are very powerful. We have the Holy Spirit in us, so we have a greater advantage. There is no way we can fail with the Holy Spirit being our GPS system. God will go before us as the New Testament believers and prepare the way for us. God has people in place to aid us. All the time, it will not be a believer.
I sense there will be an influx of souls in need of salvation in the Kingdom of God. We can't be afraid of their faces. This Kingdom belongs to the lion of Judah. In every kingdom, there is a King. King Jesus run this Kingdom. He is King of Kings and Lord of Lords and at His name every knee has to bow. In the animal kingdom, the lion is king. You can hear his roar from 5 miles away. He roars toward the ground instead of the air. When the lion's roar sound is released, the ground vibrates. I believe a shift happens in their kingdom. I believe it is the same with us. When Cain killed Abel, it was said that Abel's blood cried from the ground. This was part of the falling of man into sin. We were also made from dust. God said everywhere the sole of our feet touched was ours. So when speaking under the inspiration of God, there is a roar released in the earth.
When Paul and Silas sang praises to God at midnight, a shaking took place in the earth like an earthquake and the prison cells were open. I believe that we're releasing prophetic praise.
When a lion roars, it is calling out to everyone that this is his territory. God will use us at His will to release a prophetic word through our voice. A frequency is released in the spirit realm, alerting the enemy of fear that it has to leave.
"Surely the Lord God will do nothing, but he revealeth his secret unto his servants the prophets. The lion hath roared, who will not fear? the Lord God hath spoken, who can but prophesy?" — Amos 3:7-8
I believe the use of these Scriptures together is indicative that when a prophetic word is released, it is like the roar of a lion. It provokes fear in the enemy. Lions have courage. They know their authority. The other animals know the power of the lion, which can cause them to become paralyzed and immobilize them. So when fear is present, use your voice to prophesy to roar fear away.
---
Prophetess Lenita Akles is married to Dennis. They have three children and two grandsons. Together they attend Kingdom Place Ministries. Prophetess Lenita Akles works as a Registered Nurse and hospital chaplain.