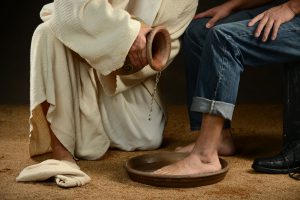 In our society, ministry has been about look at Me and look what I can do! We have allowed the sin of pride to creep into the church. Let us repent before the Lord! Let us allow the Holy Spirit to define to us as to what it means to be a servant. A servant is one that serves others as defined by Merriam-Webster. In Mark 10:45, Jesus echoed these words, "For even the Son of Man came not to be served but to serve others and to give his life as a ransom for many." Did you hear that? Jesus didn't die so that we could be a member of an elite club! He didn't walk on the face of the earth to put on a pedestal and to have a staff of people catering to Him. He didn't have a ministry to where He was only barking out orders and boosting His ego by being in control. No, Jesus came to serve! Lord, have mercy on us for abusing the power you have given to us through your word. We must stop abusing our authority! Leaders and those in the body of Christ Jesus, we must humble ourselves before God and SERVE!  
I love what the Scripture says about Jesus' ministry. In Philippians 2:7-8, "But made himself no reputation, and took upon him the form of a servant, and was made in the likeness of men: And being found in fashion as a man, he humbled himself, and became obedient unto death, even the death of the cross." These passages of verses made me want to shout! So here I go, Hallelujah, Glory to God! Let's get into this Scripture! First, we see, in order to be fully used by God, we must drop the mindset of entitlement. God wants us to drop the pride and to get rid of the egos! It's God's ministry! Not our ministry! We can't get the big head! How dare we walk in entitlement! The Scripture clearly told us that Jesus made himself no reputation. Let me break this down! If Jesus had Facebook Live, Instagram, or Youtube, He wouldn't have casted out devils, healed the wicked, or raised the dead for likes and to gain followers. He didn't do ministry to boost His ego! He did ministry and performed miracles to meet the needs of people. Jesus, when he walked on the earth as a man, was stripped of His deity and became like you/me in order to take on a form of a waiter to heal those who were bound by sin and to set the captives free! God is calling us into repentance. If we want to see God's glory in our churches, we must walk in humility and make ministry about serving the people. If you have made your ministry all about YOU, God says, REPENT! Next, we must allow the Holy Spirit to shift our focus from making ministry all about US and ask the Lord to give us HIS heart and to give us a greater burden for souls. Why was the Spirit of the Lord upon Jesus? Let's see! "The Spirit of the Lord is on me, for he has anointed me to bring Good News to the poor, He sent me to proclaim that captives will be released, that the blind will see, that the oppressed will be set free. Our motives matter to God. We must be driven by servanthood and reaching those who do not have a relationship with God. Instead of increasing our cash apps, Venmo, and our PayPal, we must define why the church was created. Repent and ask God to forgive you if this has been your focus. God desires to use you! God wants us to have a genuine heart for the people. Period!
In Scripture, we see, before Jesus was crucified, He performed the act of washing the disciples' feet. Please, at your leisure, read the entire story in John Chapter 13 in verses 1-17. What great humility! These disciples had traveled on many occasions at great distances. They didn't have the luxury of riding in a fancy car. No, they had to use a transportation of sandals' express, which means, their feet were caked with dirt, feces, urine, grass, and whatever debris they had on their feet from a long day's journey. Some of us wouldn't have washed the disciples' feet even if we wore latex gloves. No, we would've been busy complaining about the smell. However, Jesus humbled himself and performed this act of servitude to the disciples. In order for us to become servants of God, we must release pride and learn to walk in greater humility. Ministry is more than the glitz and the glam! We have to get away from the plushness of ministry. God might ask you to start a homeless ministry or send persons into your church who hasn't had access to running who might night smell good or look tidy and clean as we appear to be! That reminds me that we know how to look the part, but our hearts can be dirty and nasty unto God!   
I will conclude by the words Jesus spoke when He was talking to the disciples and the crowd that followed Him. He simply said these words, " Whoever wants to be great must be a servant!" God isn't impressed by our accolades, degrees, titles, our extensive resumes! No, He wants to know are you willing to roll up your sleeves to put the work in? Will you walk in humility, obedience, love, and become a servant by putting aside your selfish ambitions to deny yourselves? Will you honor and obey me by serving the needs of those that I shall highlight to you? Will you answer the call to serve?
Here are some simple ways to serve?
Call someone and pray for them

Encourage your Spiritual Leader

Pray for someone at the grocery store, gas station, etc

Buy a gift card for someone who is struggling

Offer baby sitting services for a single parent

Text someone an encouraging message
Pray, ask the Holy Spirit who needs to feel God's love and how you can execute the assignment.
Listen to Terra's broadcasts
Encourage Yourself In The Lord
Hearing God's Voice Can Shift Your Life 
---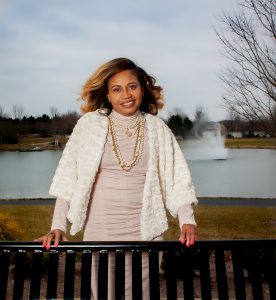 On February 25, 2017, Terra became a licensed and ordained minister. Terra began ministry at the age of 23. After a series of dreams and verbal confirmations, she announced her call into ministry in 1997. In the dream s God gave her, she would always see herself preaching, prophesying, laying hands, and praying for people. God would always give her the Scripture to read in Jeremiah 1:5. After the Holy Spirit gave Terra the revelation of her dreams, she knew that God had called her to be a prophet. Sh e preached her first sermon at the church her grandfather founded.
Terra's other Kingdom assignments include G.L.O.W. (God's Love Overflowing Within). She originally founded this ministry in July 2017 but didn't launch it until May 2020. The purpose of this ministry is to equip, empower, and encourage female ministers. Also, to encourage women in general. Under GLOW ministries, Terra host women's empowerment luncheons. Terra is a prophetic voice in the body of Christ. She is also an avid student and teacher of God's word. Terra is passionate about preaching the Word of God!
The thing most important about her is that she loves the LORD and His people. She loves spending time with God in prayer and worship. She has the heart of an intercessor. She loves serving and praying for others. She desires to see the body of Christ walking in maturity and helping other believers in Christ to reach their God-given potential.