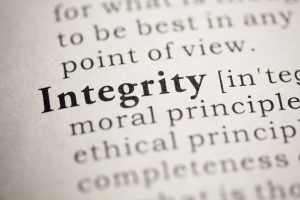 But the fruit of the Spirit is love, joy, peace, longsuffering, gentleness, goodness, faith, Meekness, temperance: against such there is no law. And they that are Christ's have crucified the flesh with the affections and lusts. If we live in the Spirit, let us also walk in the Spirit." – Galatians 5:22-25
Love just so happens to be at the top of the fruit list. If we have integrity, we are honest. Concerning the matters of integrity, it is out of the issues of your heart. When our hearts are contaminated, we do what is best for our own interest, but it might not be the right thing. One example is cheating on our taxes. It could be in our best interest to cheat.
It can save us money. Out of integrity we should tell the truth about our taxes. Currently, we are not under the mandate in most states to wear a face covering. It can be any kind of face coverings. You have some people who refuse to do it because it is not a law. That is an example of a lack of integrity. You don't love yourself enough to protect yourself as well as others to protect them in case you have contracted COVID-19. I have been a nurse for 41 years and retired from public health after 28 years. I know some things about health and infectious diseases.
This is not a political issue nor a religious issue. It is a science issue. If you go to the top of the mountain and you jump, you will fall to the bottom because of the law of gravity.
Let me go further with what is said about Blacks dying from the virus. Blacks have chronic diseases and are less likely to have the money to buy medication, cleaning products, and protective equipment. At the beginning of the pandemic in the predominantly black communities of low-income Americans, the stores didn't receive as many of the cleaning supplies. This is a lack of integrity in these store chains. The economy operates by supply and demand. The more there is a demand, the more supplies are shipped to that store. Many low-income people don't have the extra money to buy all the cleaning stuff.
Economists study consumer behavior and this how the developers and inventors decide what to create. Since social medial was created, Facebook is aware of what you shop for and you get pop-ups based on what you have shopped for online. Youtube and Facebook generate ads, and this is how some people make their living, especially those who are public figures. The businesses recognize that the public figures you like can influence what services and products you use. This will increase their revenue sales. Some of the creators have integrity and others don't. We can decide if we are going to listen to the ad or skip based on the product. Sometimes it is a new product that catches our attention, or it can be a service or product we need or want.
There is a subliminal suggestion, and we impulse buy. It is not always something we need at the moment or something we can afford.
---
Prophetess Lenita Akles is married to Dennis. They have three children and two grandsons. Together they attend Kingdom Place Ministries. Prophetess Lenita Akles works as a Registered Nurse and hospital chaplain.