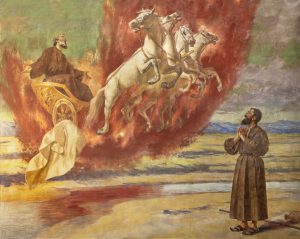 A mantle is defined as assuming a role of leadership that someone else once held. There are a few variations to the phrase, including picking up the mantle, carrying the mantle, assuming the mantle, etc.
The mantle is something that people grow into. Elisha did not get his mantle right away. He had to leave the familiarity of where he lived. He left his family, oxen, and field. He went to a field of training, removing burdens and demonstrations of miracles of healings.
Yes, there were difficulties in his preparation. He was mantled for the difficulties as he trained to receive his mantle transference. It was necessary to follow his spiritual father Elijah everywhere he went. More than likely, he followed him to sleep as well as to the restroom. The only way he could receive the mantle was if he saw Elijah when he left the earth. Elijah tried to get him to leave him, but Elisha wanted it bad. Prophetically the company knew the day Elijah was to leave, but Elisha did not become discouraged. He saw him when he left. He was not going to let others snatch his mantle. It was the mantle of a double portion. Elijah didn't operate in the double, so he couldn't give away what he didn't have. God had to give Elisha the double portion mantle. All we know is Elisha was there and he caught the mantle. Today I believe we can still catch a mantle. The natural eye can't see it. When you are chosen for the mantle, grace causes you to be mantled for the difficulties. There is a chase in your heart to be in position when it drops. You must see it to receive it.
---
Prophetess Lenita Akles is married to Dennis. They have three children and two grandsons. Together they attend Kingdom Place Ministries. Prophetess Lenita Akles works as a Registered Nurse and hospital chaplain.