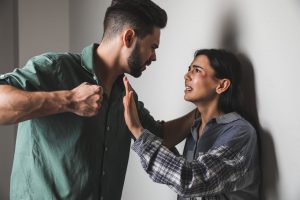 Domestic violence seems to be at an all-time high during the COVID-19 Pandemic. Women have been victims of physical abuse and afraid to go to a shelter because of the lack of social distancing protocols. As a result, they stay home and endure violence. Sadly, many have died as a result. If you are a victim of domestic violence, it's not your fault. Anything can trigger your abuser. Saying the wrong thing, looking a certain way, or not doing something to their standards could result in your face being a punching bag.
Women are natural nurturers and they are very domestic or family-oriented. Their husbands can sleep around with other women and they will choose to stay in the marriage. Since most women are wired this way, they will stay if their man beats them as well. Some believe that they can change their abuser. However, only God can change someone. I have been extremely frustrated in the past trying to change my ex-husband. Nothing I did worked. The harder I tried, the more things became worse. Shortly after, we divorced.
Women should go somewhere safe while they pray and believe God to deliver their abusive husbands. If you are single or not married and getting abused, it's easier for you to leave that relationship because it's not a covenant like marriage and no true commitment. There are shelters and hotlines to get help. They are very discreet and protecting battered women are their top priority.
Some states don't play when it comes to domestic violence. My sister got into a fight with her child's father one day. She and I went down to the magistrate office and reported him. A few hours later, the cops came to his job and arrested him. Also when my ex-husband and I got into an altercation, I got arrested. If there is a domestic violence charge on your record, you will be hindered in many ways. I couldn't get a good job or live in a decent area. I was used to people telling me that I was a criminal because they assumed that I was a violent person. When my ex-husband hit me, I fought back and decided to leave. Some women don't fight back and their abusers feel like they can continue to get away with it. Some abusers prey on people's vulnerability.
My old mentor told me a story about a lady who got mad at him because he didn't agree with her decision to marry her boyfriend. One day he was praying about her getting married to this man and he heard the Holy Spirit say, "No. He is not the one." My old mentor told the woman what he heard in prayer and she said, "You don't want me to be happy. You are trying to hold me back." Well, she didn't listen to God's warning and got married. Shortly into the marriage, her husband started beating her. She went to my old mentor and his wife and they counseled her to leave but she refused. A few days later, the woman's husband beat her to death. My old mentor told me that was one of the hardest things he ever had to go through in ministry because he grew to love and care about the deceased woman.
My husband used to be a womanizer. He beat the women that he dated and shacked up with. One day, one of the women stabbed him with a knife. He had to go to the hospital to get stitches. He tells his story in his book Who Touch Me? My Journey to Jesus. God began to work on his heart and he began to walk away when he wanted to punch the women that he dated instead of hitting them. He knew he needed to change his lifestyle, so he ended up single for years while focusing 100% on the Lord.
Many women feel that their man loves them because they hit them. Well, I have news: that's not love. 1 Corinthians 13:4-7 says,  "Love is patient and kind; love does not envy or boast; it is not arrogant or rude. It does not insist on its own way; it is not irritable or resentful; it [does not rejoice at wrongdoing, but rejoices with the truth. Love bears all things, believes all things, hopes all things, endures all things."
These verses are a great reminder that love is kind and not irritable. A person that truly loves you won't hurt or abuse you. Hitting is not love. I don't promote divorce but if you are in a marriage, use wisdom. Your safety and life is top priority. I recommend a time of separation so your abuser can get help. If you are not married, you don't have to settle. God has someone better for you and they will never lay a hand on you.