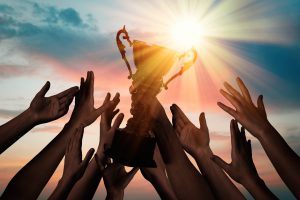 BORN TO WIN 
Def: Culture means a way of life.
Winning, Conquering, Dominating is our way of life
It is easy to lose if you are born into a family of losers. Losing becomes natural. It is different with you. You are born in a family of winners.
The young lions are raised in a winning family. They grow to become winners
1) You are a winner
2) You belong to the winning family
3) You win everyday
(Genesis 1:26)
Complete dominion is what God had in mind when He created us
God's mind has not changed. Even after Adam sinned, God had to send His Son to restore what we had lost
Adam was completely in charge before his fall. He was respected by everything
1) Are you winning in life or are you losing? Are you a winner or just a survivor?
2) Are you a victor or victim?
3) Are you enjoying life or are you enduring in life?
4) Are you going forward or are you going backwards?
5) Are you gaining momentum in your life or are you slowing down?
6) Are you feeling strong or are you getting weaker?
7) Are you still believing God or are you now doubting him?
(1 John 5:4-5)
1) Are you born again?
2) Do you believe in Jesus?
3) Do you have faith in yourself?
If your answer to these questions is a yes, then you are a winner.
NEVER UNDERESTIMATE THE POWER OF YOUR SALVATION 
1) Your identity changed (2 Corinthians 5:17)
You are a new creature with new DNA.
You are a child of God
You are a kingdom citizen
2) Your level has changed (Colossians 1:13)
You are completely free and never under the control of the enemy
3) Your authority has changed (Luke 10:19)
You have complete dominion over:-
a) Sickness and diseases
b) Sin Romans 6:14)
c) Poverty (2 Corinthians 8:9)
d) The world (1 John 5:4-5)
e) Satan and his demons Mark 16:17)
WHEN ARE YOU GOING TO WIN? 
(1 John 4:4)
1) You are not going to win in the future.
2) You are already a winner. Christ in you is your victory
WHAT DOES IT MEAN TO BE A WINNER 
1) It means to be in control of your life
Many have lost control over their lives. Their lives are controlled by outside forces.
Who is making decisions for you?
Is your life going in the direction that you want it to go?
Are you not forced to do things that you don't want to do?
2) It means to be in charge of your surroundings
You have to dictate what happens around you. Nothing should happen without your approval
3) It means to be unmoved and unshaken
Unstoppable
Unconquerable
Untouchable
Undefeatable
Unhindered
The devil will try to shake you and move you
4) It means to rule in the midst of opposition
5) It means to shine bright even in the midst of darkness
KEEP THE FAITH 
Your faith is what the devil targets the most
The devil can't do anything to you when your faith is in place
(1 John 5:4)
1) Continue to believe in Christ's finished work
Jesus did all that needed to be done
2) Continue to believe in what God has made you (Romans 8:37)
3) Continue to believe in what you can do in Christ (Philippians 4:13)
4) Continue to believe in what you have in Christ
a) You have the nature of God. It is a nature of victory (2 Corinthians 5:21)
b) You have the Spirit of God
(1 Corinthians 3:16) (Romans 8:11)
c) You have the grace of God (Romans 5:17)
d) You have the word of God