John 7:24 says, "Judge not according to the appearance, but judge righteous judgment."
Many people are deceived because they are judging wrongly. We make decisions based on superficial things such as looks, fame, money, success, and connections. Some feel if something is shiny, beautiful, and appealing that it's from God. Take heed because every door, opportunity, and person isn't of God. The enemy knows what our flesh desires, so he tempts us by placing various stumbling blocks in our path. The enemy disguises himself as an angel of light.
2 Corinthians 11:14 says, "And no marvel; for Satan himself is transformed into an angel of light."
When Saul was chosen as the King, people judged him by his outer appearance. He was popular because his father was well known. He was taller than anyone else and handsome.
1 Samuel 9:2 (NIV) says, "Kish had a son named Saul, as handsome a young man as could be found anywhere in Israel, and he was a head taller than anyone else."
According to the people, Saul was destined to be king. He was the people's choice but not God's. The  Lord foreknew of the calamity down the road of Saul's failures. However, the Lord is merciful and gave the people what they wanted. The most popular candidate may not be the best person for the position. Does the person have the heart of God? Are they anointed for the position? Does the person have any ulterior motives? Is the person God's choice or the people's choice?
When Samuel was sent to anoint one of Jesse's sons to be king, he judged by appearance. He thought because Eliab was tall and handsome, he was the right choice. The Lord spoke and said that He sees according to the heart.
1 Samuel 16:6-7 says, "And it came to pass, when they were come, that he looked on Eliab, and said, Surely the Lord's anointed is before him. 7 But the Lord said unto Samuel, Look not on his countenance, or on the height of his stature; because I have refused him: for the Lord seeth not as man seeth; for man looketh on the outward appearance, but the Lord looketh on the heart.
1 Corinthians 1:27 says, "But God hath chosen the foolish things of the world to confound the wise; and God hath chosen the weak things of the world to confound the things which are mighty;"
God can use anyone He chooses. He loves to pick the "nobodies" and anoint them for His glory. It may not make sense to us, but He has a plan and a reason for His choice."
We must rely on the Holy Spirit to help us examine or search out a matter. Here are some steps to judge righteously and not on appearances.
Follow God

Just because something is popular doesn't mean God is in it.
People followed Simon the Sorcerer because he had great power.
Acts 8:10 (ESV) says, "They all paid attention to him, from the least to the greatest, saying, "This man is the power of God that is called Great."

Determine the source

Be discerning.
Is the information or person from above or below? What spirit is in operation?
You will know them by their fruit.
Matthew 7:16 says, "Ye shall know them by their fruits. Do men gather grapes of thorns, or figs of thistles?"

Search out everything

Be like the Bereans
Acts 17:11 (EXB) says, "The Bereans ·were eager to hear what Paul and Silas said [L eagerly received the word/message]and ·studied [examined] the Scriptures every day to find out if these things were true [C to confirm Paul's teaching was in line with Scripture]."
---
Listen to Kimberly's broadcasts: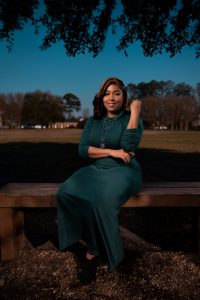 Kimberly Moses started off her ministry as Kimberly Hargraves. She is highly sought after as a prophetic voice, intercessor and prolific author. There is no doubt that she has a global mandate on her life to serve the nations of the world by spreading the Gospel of Jesus Christ. She has a quickly expanding worldwide healing and deliverance ministry. Kimberly Moses wears many hats to fulfill the call God has placed on her life as an entrepreneur over several businesses including her own personal brand Rejoice Essentials which promotes the Gospel of Jesus Christ. She also serves as a life coach and mentor to many women. She is also the loving mother of two wonderful children. She is married to Tron. Kimberly has dedicated her life to the work of ministry and to serve others under the call God has placed over her life. Kimberly currently resides in South Carolina.